Useful Links and Valuable Resources
This page contains links to various other websites including other car clubs. Our intention is to keep updating this page with resources that will be valuable to our members and visitors.
ADI Advanced Diagnostic Institute
Automotive Technician Training, 826 West Cox Ferry Rd., Conway, SC 29526
Phone # 843-907-3098
Advanced Diagnostic Institute is pioneering the field of automotive education through our dedication and commitment to our students' needs. We offer a unique educational experience designed to enhance intellectual growth and promote participatory engagement.
Classic Collectors - Car Insurance
You Perfect It We Protect It See how much you can save when you switch to a Classic Auto Policy from Infinity.
We insure over $1.2 billion worth of Classic Vehicles nationwide!
Our program features & Benefits American Owned & Operated
Competitive Rates Free Spare Parts Coverage
Graranteed Value Coverage Free Trip Continuation Coverage
Expert Handling & Service Free Full Glass Coverage
Flexible Usage Plans Featuring "Live & Let Drive" Unlimited Mileage Plan Drive-to-work Coverage
Collection Discounts Protection for Vehicles Under Restoration
Free Dirver Club Roadside Assistance Choose your Repair Shop
ABOUT GRUNDY 866-338-4006
The James A. Grundy Agency, Inc. began as a small insurance company with a special knack for innovation.
Since 1947, we have grown to be the premier provider of specialized insurance not only for collector vehicles, but for everything that is important to you.
The basis of our success is that every Grundy policy includes superior coverage, legendary service, and substantial savings.
Grundy Protects Everything Important To You
In 1947 James A. Grundy, Sr. used resources provided for veterans of World War II to create the James A. Grundy Agency, Inc.
That year he also invented Agreed Value Insurance specifically to protect his father-in-law's antique automobile collection, and we now protect many asset classes using the Agreed Value concept.
Collector and classic car insurance
Our deep knowledge of cars and their owners lets us offer you better classic car insurance coverage for less.
check thier website for local agents:
Carrie Johnson Ins.
9290 Nwy 17 Byp
Murrells Inlet 843-357-9404
nationwide 877-922-9701
History of the Automobile

Contrary to popular consensus, the history of the automobile began around 1769, with the creation of steam-engine wheeled vehicles that were responsible for transporting humans to their desired destination. However, the first fuel-powered vehicles appeared during 1806, when the internal combustion engine was designed.
Palmetto Academy for Learning Motorsports
Myrthe Beach Car Club supports a scholarship for this school
Located at. 826 West Cox Ferry Rd., Conway, SC 29526
Avery Moore - Principal 843-903-6600
Facebook page - PALM Charter High School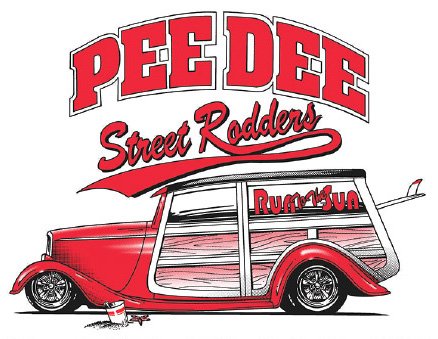 We have created a club to enjoy the hobby of American classic cars and trucks and socialization with others that enjoy this hobby as well. Our main focus is to have fun with the classic car hobby, and help our communities while doing so.
Go here to get information about the next Run To The Sun car show. You can print a registration form also.
A car club based in Georgetown, SC
winyahcruiser@aol.com or oleane@sccctv.net
Originally founded in 1984 in Georgetown, SC, Winyah Cruisers is no longer an "official" club - just friends interested in classic cars & trucks.
The original Winyah Cruisers Car Club was founded in 1984 in Georgetown, SC. Club objectives were to promote interest in various forms
of the old car and truck hobby and to create good fellowship and sportsmanship among its membership.
As of December 2010, the club no longer operates as an "official" organized club; the group meets only socially.
Founding Date 1984 in Georgetown, SC
Swamp Fox AACA Old Car Club
A local car club based in Timmonsville, SC
Old Dominion Cruisers Club
Myrtle Beach Corvette Club
Based in Myrtle Beach, South Carolina. On Face Book
Good club out of Florence
Specialty Equipment Market Association
Manufacturers of automotive equipment. The Myrtle Beach Car Club is a proud member to support the preservation of our hobby.
Coastal Carolina Mustang Club
Myrtle Beach, South Carolina Mustang Club.
Grand Strand Corvettes, INC
Pat Hicks Founder Member/ President 843-685-3839 843-685-3839